What Is Soffit and Why Is It Important to a House?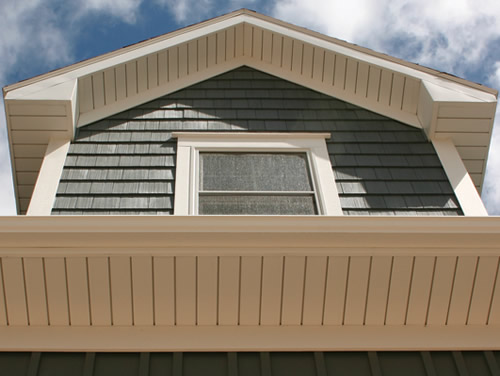 Soffit serves both an aesthetic and functional purpose for a building's roofing system. It's the skin that covers your eaves. Without a soffit, you would see your rafter boards fully exposed. Cover the boards with soffit, in the style and color that you like, and you add some instant and easy character to your building.
Soffit protects your rafters from the weather elements. If your rafters are exposed in any areas, you'll may have mold buildup, rotting beams, pests, and/or wasps' nests which are unwanted problems. Soffit helps your building breathe. With vented soffit, air can flow through the vents to provide regular air circulation to your attic. Air flow is tremendously important for your entire home.
What is Fascia? Why wrap it?
The fascia is the part of the roof that is used to create a barrier between the outside and the edge of the roof. Typically installed behind the gutters and beneath the roof line, the importance of the fascia to a well-constructed roof cannot be argued with. The fascia will cover the entire structure and be attached either to the top of the exterior walls or to the rafter's uncovered ends.
If you desire a maintenance free house, we recommend wrapping it with metal. This prevents you from ever having to maintain the fascia boards again.